The perfect wedding bouquet: Blooms for every bride
Introduction:
When it comes to bridal bouquets, every bride deserves to carry a masterpiece that complements her unique style and wedding theme. This intimate accessory not only serves as the main floral piece but also subtly echoes the bride's personality and aesthetic. Red Velvet Weddings is thrilled to bring you our top tips for selecting the perfect wedding bouquet.
Reflect your personality and style:
Your bouquet is an extension of your personality, and it should represent your unique style. Are you a classic bride who loves traditional roses? Or perhaps you lean towards bohemian chic, preferring wildflowers or unconventional plants like succulents? There are no rules; feel free to choose flowers that resonate with your character.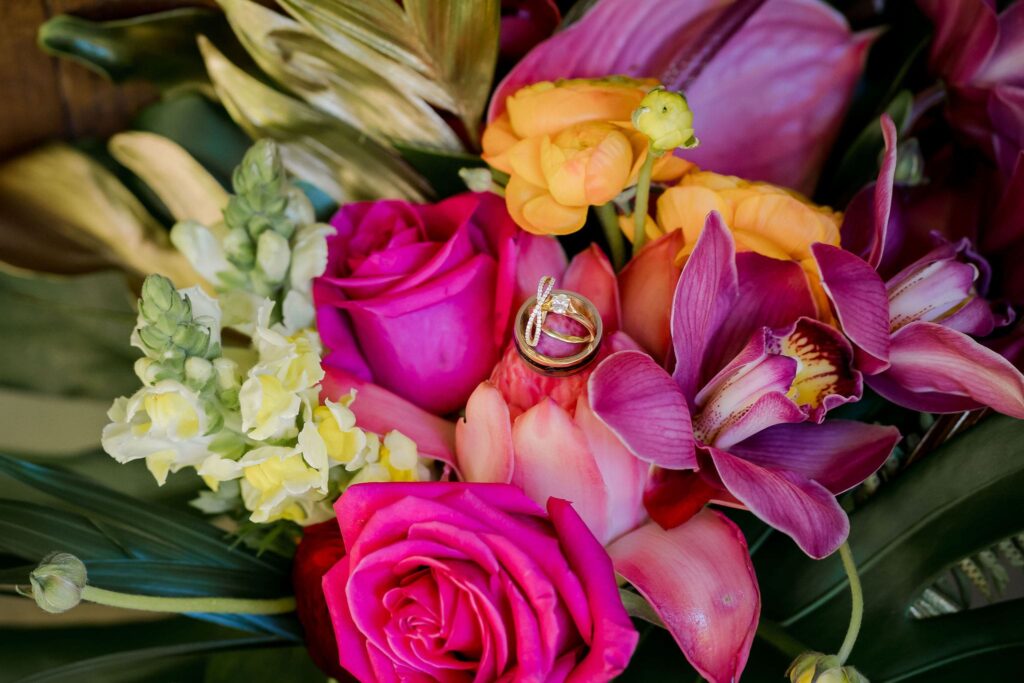 Consider your wedding dress:
Your wedding dress sets the tone for your entire bridal look, and your bouquet should complement it, not overshadow it. If your gown is heavily adorned or has intricate details, opt for a simpler bouquet. A minimalist dress, on the other hand, could be paired with a larger, more intricate bouquet.
Mind the shape and size:
While some brides may feel drawn to large cascading bouquets, others might prefer a neat round posy. The shape and size of your bouquet should not only match your body frame and height but also the style of your wedding dress. Smaller bouquets tend to complement slimmer fitting dresses, while larger, more flamboyant bouquets can balance out voluminous ball gowns.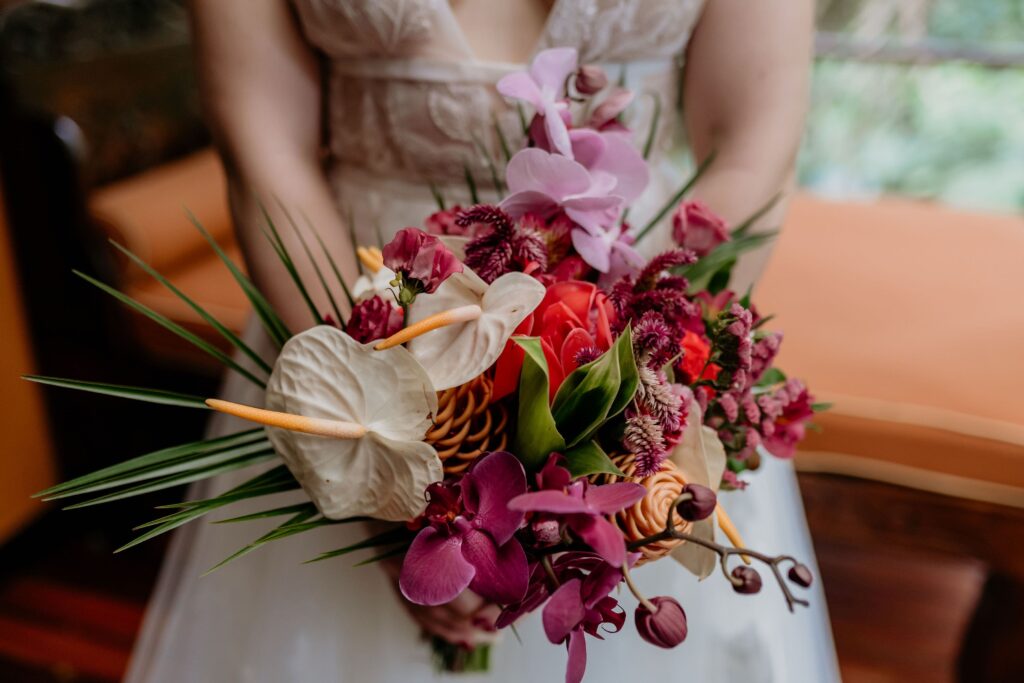 Color palette is key:
Choosing the right color scheme is pivotal in creating a harmonious look. You could choose a monochromatic bouquet that matches your wedding colors, or perhaps opt for a bouquet that adds a pop of contrast. Remember, your bouquet doesn't have to match your wedding palette exactly, but it should at least harmonize with it.
Seasonality matters:
The time of year you're getting married can significantly influence your floral choices. Seasonal flowers not only look fresher and last longer, but they are also more budget-friendly. 
Sentimental touches:
Adding a personal touch to your bouquet can make it all the more special. You might want to include a family heirloom, such as a piece of lace from your mother's wedding dress, or perhaps you'd like to incorporate flowers from a meaningful location or event. 
Scent matters:
While we often think about the look of a bouquet, the scent can also play a significant part in your big day. Flowers like gardenias, jasmine, and lilacs provide beautiful fragrances that can evoke a strong emotional response and make your day even more memorable.
Choosing your wedding bouquet is a unique part of your bridal journey, and it should reflect your individuality and style. Don't be afraid to experiment with different flowers, shapes, and colors until you find the perfect arrangement that complements your vision. Remember, it's your day; let your bouquet be a vivid expression of your love story.
Red Velvet Weddings wishes you all the joy as you bloom into this exciting new chapter of life!
Bloom on, beautiful brides!
Let us help you plan the wedding of your dreams.