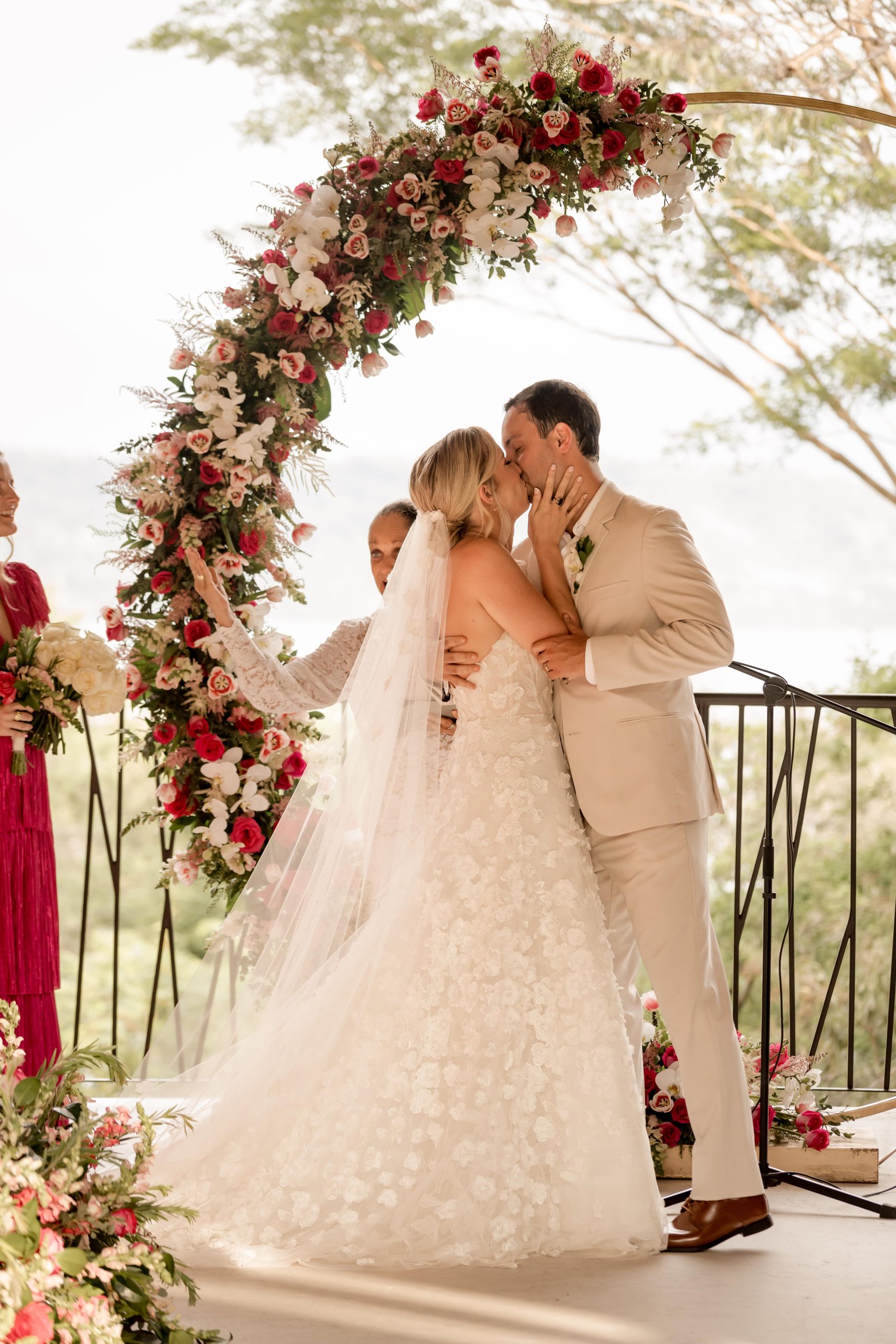 Taylor and Billy, a charming couple from the South of the USA, envisioned a wedding immersed in the captivating allure of Costa Rica. Entrusting the task to Red Velvet Weddings, their dream of a magical celebration became a reality. With a focus on alcohol, music, and flowers, this enchanting occasion was nothing short of extraordinary. Taylor's request for a pink wedding was breathtakingly brought to life. Red Velvet Weddings transformed every corner of the venue, infusing it with a symphony of soft pinks. From delicate draperies and exquisite table linens to table runners and floral arrangements in various shades of pink, the atmosphere exuded romance and elegance. Recognizing the importance of libations in creating a festive ambiance, Red Velvet Weddings curated a remarkable selection of beverages. The couple's preferred cocktails, featuring playful tropical twists, delighted guests and added a touch of glamor to the celebration. Each sip elevated the overall experience, ensuring a lively and joyful atmosphere.
Music was pivotal in Taylor and Billy's wedding, with Red Velvet Weddings leaving no stone unturned to create an unforgettable auditory experience. The MB Project band serenaded the guests during the ceremony, evoking emotions and setting the tone for the occasion. The reception came alive with a dynamic repertory that kept everyone on their feet, dancing the night away.
Flowers were a focal point of Taylor and Billy's vision, and Red Velvet Weddings, along the incredible team of Art|Flower, took this to heart—an abundance of exquisite blooms, predominantly in shades of pink, adorned every venue corner. Fragrant roses, tulips, and orchids transformed the space into a romantic wonderland, infusing the air with their sweet aroma and captivating the senses. Taylor and Billy's wedding, meticulously crafted by Red Velvet Weddings, brought their pink paradise to life. It was a celebration of love, shared with their loved ones in a setting that embodied charm and elegance. This enchanted affair surpassed all expectations, leaving an indelible mark on the couple's journey together.